Ecological village(s) in the Negev district in IsraŽl.

Introduction.
The population of IsraŽl is increasing rapidly because of a high birth-rate and immigration. Cities as Tel-Aviv and Jerusalem and their surroundings are getting overcrowded. Traffic jams are also in IsraŽl a big problem. There is environmental pollution, too much poverty - the gap between the poor and the rich is rising - and unemployment.

New sustainable and 'green' villages and cities must be developed in an ecological way in still uncultivated areas above all in the Negev district.

De Israeli government understands only a sustainable economy gives Israel a promising future. Therefore in scientific research there is much attention for a.o. the use of wind- and solar-energy, recycling of waste water and the development of electric cars.

The time is ripe for ecological villages (yeshuvim) in the Negev where these new sustainable firms mentioned above could establish themselves. This would give an enormous boost to 'the economy of enough'.

The economy 'of enough'.
Our opinion is the current economical system worldwide is starving. Where in the 'old' economy the 'P'of Profit (making fast profits) was 'number 1' of the three 'P's' (Profit, People, Planet), now in the 'new' economy of enough the P of Planet is nr. 1 and the right order should be: Planet (care!), People (care!) and Profit (making money on a longer term). One could read more about the new economy a.o. in the book 'New Economy Business' (2016, Marga Hoek).

We have seen crises after crises in the last 16 years in the Western economies and we have not seen the end of it yet. 'Emerging markets' is countries as Brazil, India and China drop for several reasons. The economic development of the USA and the Europees countries is on a low level. By ignoring or underestimating the seriousness of the situation a.o. through climate changes and by not undertaking radical measures the world economy threatens to collapse through new environmental disasters. We see it happen and the only thing cleaver and wise people can do it to start a fundamental 'green' (business) movement worldwide to give counter-pressure. It is 5 minutes AFTER twelve o'clock but most people think we have enough time to change the tide. Some talk already about 2050. I hope (and pray) humanity still exist then.despite Donald Trump who is a anti sustainability freak!

So it is above all time for well-being (share) in stead of welfare (have). Let's realize it is not important what you 'have' (an egoist), but who you 'are' (a good person who shares, a 'mensch'). Particularly the level of prosperity (overconsumption) in the West should diminish to spare our living (the Earth) for ourselves and the generations to come. Herewith we are a better example for fellowmen who even lack the primary necessities of life like healthy food, clean drinking-water, clothing, proper shelter and education.

Sustainability, sound production and provision of services and above all micro-credits for new sustainable small businesses belong to well-being not only in Africa and Asia, but also in Europe, America and IsraŽl!

On the basis of the above we believe the development of a network of - Tora based - professional ecological villages (cooperations) in and outside IsraŽl is a fundamental worldwide contribution to a new economy 'of enough'.

Strategy and conditions for the creation of a professional ecological village.
Every project start with promotion and networking. Particularly in Israel. This should attract the first participants/pioneers/entrepreneurs.

A nucleus group of at least 10 (start up) entrepreneurs with a sound business plan and 10 private investors is needed. The entrepreneurs are potential inhabitants and creators of business and work for employees in the village. Entrepreneurs (jewish, religious and social aware!) and investors share and vision, ambition and belief the village is for them the best way to give a structureel contribution to a healthy world community.

When the nucleus group is convinced of her credibility is is time to approach the authorities for some requests.

Practically a 'sand-box' of about 1.000 hectares in the Negev is namely needed for the realisation of a serious yeshuv. Provided by the 'Ministerium of the Development of the Negev' at a symbolic rent!

The infrastructure (roads, water, electricity (temporary) a.o) of these villages on available land should be provided and funded also by the Israeli authorities. The ecological houses and busi-ness accommodations (excluding bunkers) should be individually financed (private money & mortgages) and - if possible - build by the inhabitants/entrepreneurs themselves (as a team). Professional development and building assistance and supervision will be mandatory to rea-lize a beautiful village.

As the Israeli government (ILA) has created 7 villages - and has planned 13 more - for Bedouins in the Negev, why not also give these facilities (a place for a village, infra-structure and 500 m2 surface for each family) to well-educated and professional jewish entrepreneurs? And with one or more ecological yeshuvim in the Negev Israel would be a precursor concerning setting an example of the 'economy of enough' in a desert area. Good for the image of Israel in the world!

If the authorities refuse to meet the request of the nucleus group it will be a big challenge to 'self finance' a village on a serious scale. Then a smaller community is then more realistic option, but the pioneers should go voor the big 'prize'.

In December 2016 there was a exchange by letter about the project with the current Ambassador of Israel in Holland Mr. Avib Shir-On. In his letter he proposed the strategy mentioned above. Conclusion: AS and JM understand each other and are on the same page!

How does the professional ecological village look like?
Before description of the village (community) it is important to mention it is not a 'kibbutz'. JM presumes you know what this is. Also it is not a plane 'moshav' (agricultural and/of horticultural cooperation). It IS a cooperation but there will be all kind of economic activity as long these activities are according to the 'Golden Rule' (see below) of the cooperation. This kind of cooperation is called in Israel a 'yeshuv'. To prevent misunderstandings: in this kind of community every household has to provide for income itself to cover the costs of it.
The village for 25.000 inhabitants has the shape of a circle which is dived in a living - and a business area. In between is an hugh earth wall with all kinds of plants and bushes on it. In de middle of this wall there is a passage for traffic by cycle and electric cart.
(Larger) firms who do not fit (a.o. noise - and traffic nuisance) in the residential part of the village will be established on the business area of the village. There will also be the place of a shopping-centre (mall). In the village - on strategic spots - there will be room for a.o. a community centre, an integral health-centre (combination regular and natural healing), a guesthouse, a synagogue/beit hamidrash, schools (for toddlers an children till higher education/university level), a swimming pool, a community sports, hotel and holiday bungalows to rent.
The scale of the village should give most entrepreneurs the potential to earn a living by the inhabitants of the village. The village should have a high rate of self-supply so car traffic from villagers can be reduced. Private car possession will be a waste of money. The coope-ration (!) will have a number of communal electric cars for rent.
In the village is valid a 'Golden Rule': Respect your neighbour, animals, the environment and belongings of others. Our 'Chagamiem' (wise philosophers) wrote many books about this topic. It's a 'mitzvah' (commandment) of 'HaSjem' (G-d)! The life in the villages is all about quality (share/spirituality) and not quantity (have/gadegets/status). It is in fact 'tikun olam' (to perfect creation) and the inhabitants of the villages should inspire each other and visitors of the villages in this context.
Life in the village should above all be about welfare (to give/to share/personal and spiritual development) and less about materialism (to have/to possess/ego/status). It is about 'tikun olam' (= further perfection of the Creation) as the Creator teaches us in the Tora (first five books of the Old Testament). Inhabitants, visitors, students/interns etc could stimulate each other in this area.
Two subjects should be mentioned empathically: education of children and good care for the elderly.
Education of children of the village has the highest attention. They will be educated at home and at shool according the Tora and so in the extension of the 'golden rule' of the community. To keep it short: catchwords in their education will be a.o. love, empathy, sharing and self discipline. One day these children will say goodbye to the community for a shorter or longer periode or forever. Hopefully and be'ezrat Hashem (with the help of G-d) they will be a 'mensch'(good person) and be a role model for others in the world outside the community.
Good care for the elderly is a huge problem in many European countries and in the USA. I presume it is not different in Israel. As a Dutchman I know the situation in Holland is dra-matic. Children don't make or don't want to devote enough time to the care their old father and/or old mother when they need (intensive) care. And how to care for your partner as he/she needs this care when you and he/she are old (80+ years old or younger?). Maybe care can be given in nursery (home)? For this care there are severe conditions in Holland. A minority of the elderly will past the 'test' and then most of them will experience a nursery is not a paradise! Also there is lack of time for good care in all areas (personal health care, food, drinks, leasure etc.). To come to the point: clever 'young' elderly (55-70 years young) take matters in their own hands to avoid care problems and an age when it to late to care for yourself! These 'young elderlies' organize in groups to create a living community with private apartments for each member and sound agreements/appointments about care needed by members of the community of elderly. JM - as a member of the target audience - is a warm advocate of many of these small communities of elderly within the village. In Holland there is an organisation 'Oude Vossen' who is promoting the creation of these communities in Holland and who has a perfect formula for them.
The village are connected to a fast area of 500 ha (2 x 2,5 km) intended for a huge forest for recreation and wood production. The trees will be donated by everyone who wants to help to a more healthy atmosphere (CO2-reduction) worldwide. Gradually when the forest grows and grows her positive influence on the surroundings will be noticeable (o.a. humidity of air (climate) and soil). Special means - like the Waterboxx of the Dutch firm Groasis) - can cover the seedlings in the first years of their life and will provide them with moisture (no irrigation!) in this desert area. In the longer run the forest will have an important function for recreation, timber production and CO2-reduction/O2-supply.
A map (in 3D) will be made of the village to illustrate this small description of the village.
Also a brochure will be made where all aspects of the village will be described. On all aspects commission of potential inhabitants of the village will work out the different themes (regula-tions, conditions of admission, religion, education, administration, finance, management of the coop, health care, leasure, green affairs, building conditions etc. etc.).
What is done until now.
Ja'akov Markus* (JM) visited IsraŽl many times for shorter and longer periods since Septem-ber 1978. His first visit lasted 6 weeks. He loves the country and her people. Israel has an spirituality and vivacity you don't experience in Holland. But it is (can be) hot (30 - 40 degrees Celsius) there about 9 months of the year. This asks habituation, adaptation and acceptation.
In June 2009 JM was for the first time in Israel for the promotion of the project. He talked with all kind of people (entrepreneurs, government and civilians) about it. Everybody was enthusiastic about the project. For example it was heartwarming a young orthodox jew in Jerusalem said to me: "I can see in your eyes you - with the help of G-d - you will succeed!" Amen!
JM made four other short business trips in November 2010, December 2011, April 2012 and November 2013. Again he talked with entrepreneurs, institutions like the (American) Everage Foundation, OR Movement, Aish.com (project Torah's Eco-Felloships), Ministerium of the Development of the Negev, and put a lot of time in a potential place (Har Amasa, a desolated kibbutz in the south of Judea) for the village. One of the inhabitants want to transform the place into an ecological village. Until now without success. By the way the forest (of Yatir) JM dreams of is already there. Most of the Israeli's don't know the biggest forest of Israel is on this spot!
On the way I met interesting people who could be of help to build the village. I consider them as friends. However most of them I did not contact for several years. They are:
Mr. Asi Shalom (Israeli): archaeologist and ecological building expert in the area who could be of great value concerning the building of houses and business facilities. Asi build his own luxury ecological house in Sde Boker. Asi also knows very well how to deal with the 'bureaucratia' of IsraŽl. Asi is the owner of a professional machine that can produce brickes from Negev mud;
Mr. Shimon ben Dor (Israeli) is an investor and solid entrepreneur in the medical sector and real estate. Pionier of settlements in desert areas. Lives in Kfar Adumim;
Mr. Elias Messinas (Greek): ecological architect. He was connected to a ecological education centre and kibbutz Kramim with ecological activities. Lives in Jerusalem;
Anita Tucker (American): experienced entrepreneur and fundraiser. Had a big horticultural firm in Gaza. Is occupied 5 years now with the creation of a new settlement for her community. With sound results! Lives tempory in Ein Tsurim;
Akiva Wolff (American): environmental expert and teacher at the University of Jerusalem. Lives in Jerusalem;
Mr. David ben Shabat (Israeli): entrepreneur at Har Amasa. He has an design for a ecological yeshuv (settlement with all kind of business activities);
Charlie Harary (USA). Vice President of the Residential Operation and Legal Counsil of RXR Reality, a huge Real Estate Company in New York. Charlie is a active volunteer in many community organisations o.a. the Orthodox Union and AishHaTorah. He is an inspired speaker;
Henk Keune (Dutchman). Trader in biological products. International consultant concerning bakeries (building, management, baking techniques). Henk was for many years the owner and baker of a big biological bakery in Holland. He lives in Utrecht.
Moshe Flam. Entrepreneur from Beit Shemesh. He knows exact what is happening in Israel in the area of ecological villages. He did an attempt to create one.
Conclusions and how to reach the goal?
The result of all my efforts towards the goal are poor until now. Why?
Conclusion 1: Because I did not put enough time/effort in the project to reach the goal. But I'm persistent in reaching this goal with your help and the help and blessing of Hashem. Because I believe and I want to serve (tikun olam) Hashem the name of the village will be 'Emouna' (Trust in Hashem). Strange enough there is yet no settlement in Israel with this name. However nothing is accidentally...
Action: Put in more effort/time in the project and pray more to Hashem for inspiration and help. So per 1 January 2017 I sold the business portfolio of my small financial advice office in Maarssen. This was the first step in the process of becoming independent from my place of residence (Maarssen) and Holland. It gives me also (temporary) more time to dedicate to the project. The second step this year is the sale of my house in Maarssen. The profit of the sale is intended as 'start up' money for me in Israel. My Aliya is planned in 2018 (maximum outlet juni 2019). The third step is to create temporary income (job/business) in Amster-dam/Amstelveen. The fourth step is finding a temporary cheap place to live (rent!) in Amsterdam/Amstelveen. The fifth step is to convince the Beet Dien of Amsterdam to make my conversion to Judaism official as soon as possible. The sixth step is the most difficult one: the divorce from my spouse Lucia (= Light = Or). Unfortunately I cannot give you full information why I have to divorce form Lucia. This is a private and complicated matter. However one of the reasons it is not allowed to live and work in a settlement in Israel as a non-Jew. I found this out myself and experienced it personally with Lucia in Israel in 2012.
Conclusion 2: Since 2009 I did a lot of promotion in Holland in connection to the project. I talked about it with hundreds of people in Holland and Israel. I gave them also exit to this website. Many were positive but the result: hardly financial support (donations) and no specific participants (entrepreneurs/pioneers) for the nucleus group of the village. For all of these (Dutch) people my project is a 'far-from-their-bed' project and they have 'tons' of reasons not to participate in the project in one way or another. So I put the promotion of the project on 'low key' in Holland and I will focus (completely) on 'Am Israel' (religious Jews in Israel.). Herewith following the strategy I mentioned before in the 'Strategy' for the creation of the village.
Action: November 2013 was the last time I visited Israel for the project. Actually the project is 'on hold' now. I will pick up the thread after my aliya to Israel in 2018 or 2019. There I will devote another 10 years to the project. Be'ezrat Hashem the pioneers for this village 'Emoena' will succeed to reach their goal.
Shalom,
Ja'akov Markus - Maarssen - Holland - May 2017 / Ijar 5777.
Biography JM.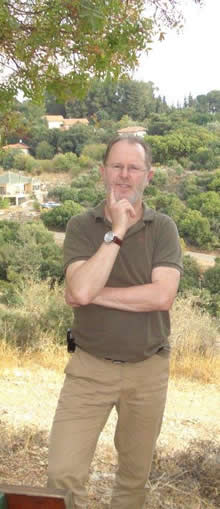 Ja'akov (64) was member of the critical young generation of the seventies in NL. After his horticultural study he became an activist against injustice and for a healthy world community. He worked in different projects. He put up a leaven bakery. He was the manager of a natural health clinic for 4 years. He had different jobs in trade and industry. He was an business advisor since 1995. Entrepreneur and financial advisor from 2001 - January 2017. Former member of the Third Chamber (advice committee on the area of the development of Third World countries of the Second Chamber of the Dutch Parliament). Desired position: promotor and coordinator in Israel of a profess-sional ecological yeshuv in the Negev.
Ing. Ja'akov (Jaap Maarten) Markus Address: De Savornin Lohmanstraat 20 3601 BZ Maarssen Holland Tel.: +31-(0)346570750 E-mail: info@ markustotaaladvies.nl
Special bankaccount for support of the project: NL59 MOYO 0759 4184 62 J.M. Markus. Please mention 'gift Negev ecovillage IsraŽl'. If you donate § 10 or more every year you are a donor of the 'Negev Ecovillage IsraŽl'. We will keep you posted about the developments of the project if you sent us your e-mail address.